My favorite, perfect lunch: eggy avocado toast with Vegemite and sambal oelek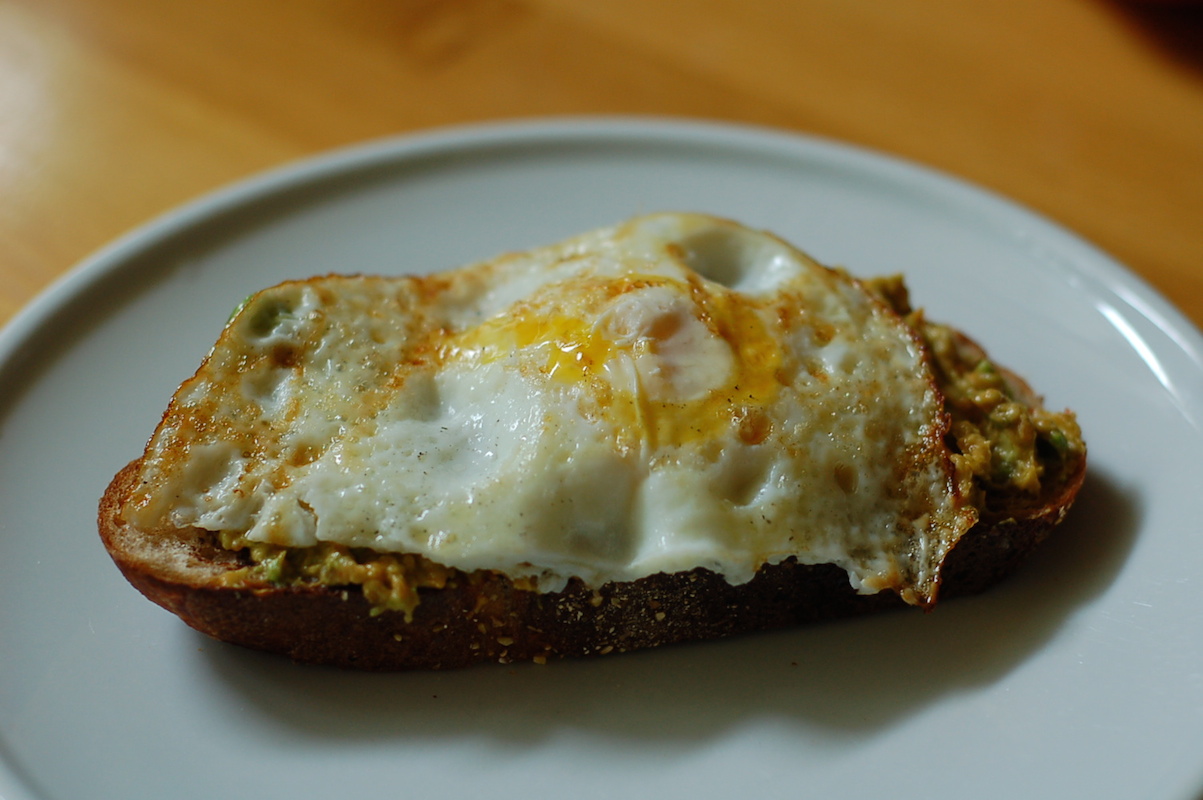 LUNCH. I shake my fist at lunch, because I am always in a bit of a shambles trying to come up with something  healthy and sustaining to eat. Tell me your tricks, because of all the meals, lunch is the one that is most likely to turn into me shoveling crackers into my mouth five minutes before I have to run out the door to get my kid. Sometimes, I am super on it, and often that lasts for weeks at time, but then I run out of kale, or there is a national emergency about lettuce, and I fall off the wagon, and it's all a big disaster.
But I tell you what, I do have a perfect, favorite lunch. I don't eat it all that often, even though it's not like it's bad for me, it's just not quite as vegetable-focused as I'd like my usual lunch to be. But come noon on a Saturday, after maybe I got in a nice long run or a nice long bike ride, there's really nothing else that I would rather eat.
And really, would this even be a kitchen blog if I didn't have a post about avocado toast?
There are two ingredients involved in this delightful meal that require me to wax poetic: sambal oelek and Vegemite.
If you have not had the privilege of encountering one or both, get ready for a flavor explosion. Sambal oelek is like a pickled chili paste; I know Sriracha gets all the glory, and I myself am happy to squirt that red delight all over pretty much anything savory that needs a kick, but given the choice, I'll choose sambal oelek every single time. It's chunkier, with flakes and seeds from the chili, and has that salty, tangy, pickly flavor that is basically my favorite flavor. If you like spicy – but not too spicy – and you haven't tried sambal oelek, seek it out. It elevates just about anything, and it makes this dish.
Then we have Vegemite. Full disclosure: I grew up eating Vegemite, and my husband is Australian. It is absolutely an acquired taste, but I am not exaggerating when I say that I think a slice of freshly toasted artisan sourdough (mine of course) bread, lightly buttered with good quality, unsalted butter and then spread with a thin smear of Vegemite, is my favorite thing to eat. It doesn't get any better, it would be my desert island/last day on earth/comfort food meal. Vegemite is – of all things – concentrated yeast extract, and despite it's chocolatey color, absolutely does not taste like nutella. The closest description I can think of is that it tastes a bit like spreadable soy sauce: incredibly salty and rich with umami. It basically IS umami in a jar: you use it sparingly, and it makes your morning. Or afternoon. Or dinner. Or late night, post-meeting, so hungry snack. In the States, Vegemite can be hard to find. Don't be tricked into trying that imposter, that infuriatingly sticky, that gloppy mess that is Marmite, because ugh. Or Bovril, what on earth. Track down some Vegemite. They carry it at Ballard Market in Seattle, or World Market sometimes. You can get it online. If you like umami (and honestly if you are reading a kitchen blog, you must), with some determination, I suspect you will like Vegemite.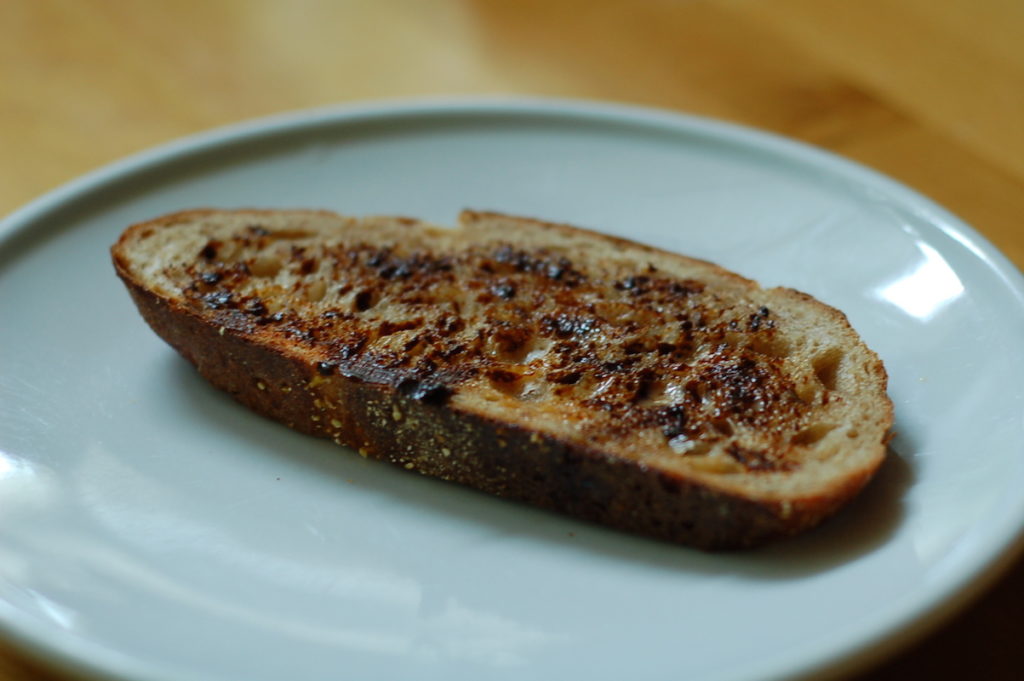 I know two marvelous flavors don't always work well together, but in this case, they sing. This is barely a recipe: toast your bread, apply butter and Vegemite, mash up half an avocado with a small spoonful of sambal oelek and smear that over the toast. Fry, poach, soft- (or, I guess) hard-boil an egg, and put it on top. Eat. But the combination of the salty Vegemite, the creamy avocado, the tangy, spicy sambal, the oozing, lush egg…it's perfection.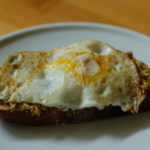 Eggy avocado toast with sambal oelek and Vegemite
Ingredients
1

slice

good quality, crust sourdough bread

Obviously you should make your own.

1

pat

good quality unsalted butter

1

smear

Vegemite

This is to taste. It's strong stuff.

1/2

ripe avocado

1

tsp

sambal oelek

More or less, to taste.

1

egg

Fried, poached, or soft-boiled (this is all about the runny yolk)
Instructions
In the meantime, start heating up the skillet (or sauce pan, or whatever) for your egg. I usually fry an egg over easy, because it is the quickest and surest way to a delicious runny egg, but you could poach, or soft-boil, and of course you could fry sunny-side up or over-medium or over-hard (what on earth). This is also good with scrambled eggs (we do this sometimes as a breakfast burrito, using a tortilla - corn and flour are both good- instead of toast) and hard-boiled eggs, but the runny egg is pretty tough to beat, as far as I'm concerned.

When your toast is toasted to your liking, spread with butter and Vegemite.

Mash your avocado with the sambal oelek, you can do it in a separate bowl, on the toast, or in the avocado skin. Add the avocado onto the toast.

Top with your egg and eat!
What's your favorite avocado toast? And what on earth do you eat for lunch during the week?
---
---