Cookbook roundup: dinner inspiration March 2018
Is there anything better than flipping through that excellent new cookbook you bought last week and stumbling upon the seasonally-perfect, ingredients-in-your-crisper, everyone-in-your-house-will-totally-eat-this dinner? No, I don't know either, because that never happens. Ever.
Oh well. Cookbooks are still the best. I live dangerously close to the Book Larder, a delightful Seattle bookshop that sells only cookbooks. I mean, really. It's a daily struggle. How often is too often? Is it weird if I just loiter in front of the windows for 10-15 minutes every afternoon? Is it a problem if I feel a little leap in my chest when they change the books on display? Is it worth dragging the three-year old to catch a three-minute glimpse of this book I'm interested in, knowing he will demand to leave immediately? I actually willingly subscribe to their email newsletter. I highly recommend a visit, it's wonderful.
However, as a result of this proximity, I have needed to implement a one-in, one-out policy with regards to cookbooks, because the shelves (and cabinets) are beginning to sing for mercy. It is, in fact, possible to have too many cookbooks. It is also, sadly, possible to get very excited about a cookbook, buy it, and then flip through it without finding a single recipe that one is interested in cooking. That is very sad, and I have discovered a brilliant way to avoid this tragedy (and by "discover" I mean "am now doing the ultimate obvious thing"): libraries. So now, not only do I have a one-in, one-out policy, I also have a try this from the library first policy, which has worked very well indeed. [I should note that this does not apply to Deb Perelman and her lovely Smitten Kitchen books, nor does it apply to anything Yotam Ottolenghi or Madhur Jaffrey are involved with, because they are all so tried and true that I line up on release day with utter confidence.]
I spend a chunk of my Sunday meal planning at the kitchen table, which involves a screen on one side of me with the contents of my incoming Imperfect Produce box, and a stack of my current favorite cookbooks strewn about me. Then I basically mix and match, trying to make what I know I'm going to have on hand work with what I want to eat that week. Oh, and I suppose I give some consideration to what the rest of the fam might want to eat (though admittedly, some weeks I pay more attention to that than others).
So what are my current favorites? My go-tos? Right now, they're these:
A New Way to Dinner by Amanda Hesser and Merrill Stubbs. I checked this book out of the library, and within a week was so pleased with it, I bought my own copy. It's quite clever, with seasonal, weekly meal plans and shopping lists and weekend bulk cooking that makes weekday cooking much faster. To be clear, I haven't used much of the full-week plans, largely because the book is too meat-heavy for our family (a vegetarian version would win me over 100%), but I've had good luck with lots of individual recipes (the fish salpicon and stuck-pot rice were two big winners, as were the surprisingly quick and easy make your own ricotta gnocchi instructions). Inspired by the approach they outline, I've also tried to do a better job of making lots of particular things and reusing them throughout the week (like make double the wheat berries for two meals instead of one) but somehow no matter how much I make, it all disappears either the first round or for lunch the next day. Not that I'm complaining. Anyway, and especially if you eat meat regularly, this is a great book to check out, especially if your weekday evenings are fraught and you have some time to prep on the weekend.
Green Kitchen at Home by David Frenkiel and Luise Vindahl. This is the first vegetarian cookbook that I've looked at in a long time that feels really fresh and new. I find a lot of vegetarian cookbooks to be blandly similar, and there are only so many recipes for quinoa and greens that I can abide. Frenkiel and Vindahl have a refreshing take. I've made variations on their Middle Eastern sweet potato wraps several times, the Korean carrot crepe rolls are unexpected, light, and interesting (though not exactly quick, what with all the julienning required), the beetroot and feta patties are the perfect use for all your zillions of beets hiding in your veggie drawers, and their cauliflower "fish" and chips are weirdly satisfying. Oh and their savoury granola is genius. As a rule, the recipes call for lots of typical-these-days vegetarian fare like coconut oil, non-dairy milks, and non-wheat flours, but I generally just ignore those and substitute in what I have on hand, and it's all turned out marvelously. [Also, sidebar,I know this post is about dinner inspiration, but there are some killer breakfast ideas in here, especially their protein-boosted oatmeal, which is now on standard rotation around here, except we call it eggy porridge, and the turmeric and blueberry muffins (which I totally adapted to work in my kitchen, but the overall effect was earthy and warm). AND there is a killer dessert section, including pumpkin pie chocolate bars which I brought into school for my first grader's birthday and almost wept to give away, they were so tasty.]
Bowl by Lukas Volger. This book is all about one-dish vegetarian noodle and grain bowls, plus a bunch of dumpling recipes. Everything I've made out of it has been balanced, well-flavored, and interesting. There's a definite East Asian bent, with recipes for ramen (I made my own ramen noodles (!!!) using his recipe, and they were perfect), pho, bibimbap, among other fare. He's got great recipes for staple broths, noodles, and sauces, and he combines things in unexpectedly delightful ways, especially in the dumpling recipes, like the delicious parsnip dumplings that call for cilantro and almonds, or the mint, sesame, and edamame dumplings. One thing to keep in mind is that, while they all end up in one bowl, some of these meals are pretty time consuming to put together, what with cooking a grain (sometimes also making it from scratch), roasting or sautéing veggies, often pickling or julienning another veggie, prepping the protein (eggs or tofu, usually), and making a sauce. It's worth it in the end, but it requires some time and some focus and lots of things going at once. Though, also lots of opportunities to use your Instant Pot and/or Vitamix to speed the whole thing along.
Vegetarian India by Madhur Jaffrey. I'll buy just about anything with Madhur Jaffrey's name on it, and was tempted to include more than just this one (At Home with Madhur Jaffrey is another favorite). When she released this one, I bought it sight unseen, knowing it would be full of vegetarian gloriousness that every member of my family will happily scarf down. And I was right! It's wonderful. It has a whole chapter on dals that I've been working my way through – next week I plan to post a pot-in-pot Instant Pot method for cooking dal and rice at the same time, and it uses one of her excellent dal recipes. They're all good, and once you get a sense of the basic method, they're easy weeknight fare. Her red lentil and zucchini soup is a lunchtime standard, and this is the perfect book for when you want to put together an Indian meal with whatever is in your fridge. She's got a recipe for all your veggies, and they're all going to be good; favorites include the roasted eggplant with tomato (really, I think, one of the most delicious things I have ever made in my life) and the quick stir fry of young zucchini and yellow squash. Also, her simple hard-boiled egg curry is so curiously easy it seems unfair for it to be such a complete showstopper.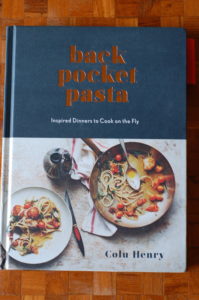 Back Pocket Pasta by Colu Henry. This is a relatively new addition to our household cookbook collection, but I like it so much that I've renamed Fridays Back Pocket Pasta day. Fridays are a little rough, especially in the afternoon, as we must slog through Friday afternoon exhaustion to swim class, which much be the most torturous after school activity ever invented, what with the hot steamy pool room, the stoptouchingthefloorSTOPTOUCHINGTHEFLOOR locker room, and the freezing cold shower that inevitably sprays me more than the littles. ANYWAY. Henry's cookbook presents a bunch of fairly simple pasta-based meals, most of which can be whipped up in the time it takes to boil the water and cook the pasta. Everything I've made from the book has been super tasty, and it has the additional bonus of making me feel hopelessly sophisticated and stylish as I toss these dishes together, as Henry seems like a very sophisticated and stylish lady who knows her pasta. Every recipe in this book is pasta, except for a very few sides at the end and then a guide to weeknight drinking with a few cocktail recipes. Not really relevant to my life right now, but I sure like the idea. As far as the pasta, standouts so far have been the brussels sprouts with whole grain mustard and the Tuscan kale "caesar" pasta. Both interesting, pantry-based, and a hit with the whole family (ok, fine, the kale was picked off but who cares).
Jerusalem by Yotam Ottolenghi and Sami Tamimi. I could have put any one of Ottolenghi's books on this list; both Plenty and Plenty More should be in your library if they're not already. The thing that is crazy awesome about Ottolenghi's recipes is that, even though some of them call for all sorts of ingredients that you probably do not have in your pantry, may have never heard of, and might not be able to find at your neighborhood grocer, you can just leave them out. It's bonkers, honestly, but you can just leave them out, proceed with the rest, and it will turn out tastier than just about anything you've ever made before. I don't quite know how he does it, but it's extraordinary. We have a standing dinner date with another family on weekends, which gives my husband the chance to cook a fine meal every other week (I am in charge of dessert when we host). Not always, but pretty exclusively, this is the cookbook he opens. The photos make every single thing tempting, and I don't think we've ever had a fail. Favorites include the basmati & wild rice with chickpeas, currants, and herbs, and fish & caper kebabs. There is a fair bit of meat involved, so if you are more veggie-inclined, go for Plenty and Plenty More. If you haven't yet discovered Ottolenghi, I'm thrilled to be the one to push you to give it all a try; plus you can serve everything with pita and hummus so the kids are guaranteed to eat something. And that clementine and almond syrup cake at the back? Oh so good.
Smitten Kitchen Every Day by Deb Perelman. Smitten Kitchen is back! Her new cookbook is, I think, even better and more useful than her old, with quicker, easier, more weeknight-friendly recipes that have been working well since I picked up a copy of this one a few months ago. Smitten Kitchen is always one of my first stops when I'm looking for a dessert recipe, and she has included a lovely selection (her birthday cake builder is the best) at the back. But the main courses in this one are also great, and doable. Her red lentil soup is absolutely delicious, especially with fresh cilantro sprinkled over the top; the cacio e pepe potatoes anna is the most satisfying side dish I can remember making; and I would eat her one-pan farro with tomatoes every night of the week from December to March if I could get away with it. Deb Perelman will never lead you astray!

Honorable mentions: Dinner: Changing the Game by Melissa Clark, which I loved, but returned to the library and have not yet purchased for myself (it's on my list, Book Larder). She has the best mujadara recipe that I have made, topping even Ottolenghi (!). She has the brilliant idea of shredding tofu, which was novel and delightful with brussels sprouts. She's also got a wonderful recipe for an asparagus and ricotta frittata. I need to explore this book a bit more, but I was very happy with everything I tried, and there were more things I wanted to try – curse the person who had it on hold so I couldn't renew. If I had written this post last year at this time, both of Anna Jones's books A Modern Way to Eat  and A Modern Way to Cook would be on here; I still use them regularly, and love them, but I haven't gotten my kids as excited about her recipes as I would like. Maybe when they are a little older.
What are your favorite cookbooks these days? Where do you turn to for inspiration? Or are you totally over the whole cookbook thing and just ask google?
---
---