Sourdough bread baking gear: equipment list
Woohoo! I love kitchen stuff! I love owning it. I love shopping for it. I love wandering the aisles of a fancy kitchen shop and wondering how I could fit that particularly useful/utterly useless item onto my overstuffed kitchen counters. I'm also very good at blabbing about all my kitchen paraphernalia to all my friends. You'll get used to it.
If you want to bake proper artisan sourdough bread (which I hope you do, because it is an absolute delight), you need a few things; don't be put off. You probably have some of these, and the things you don't are not entirely necessary (though make life easier and might get into your kitchen if you get serious about bread) and for the most part not very expensive. Here goes:
1. You need a large, sturdy mixing bowl. It needs to be large enough to hold all your ingredients and allow for substantial rise. Mine is stainless steel, made by Endurance. Helpfully, it is exactly the right size that I can cover it using one of our large dinner plates. You need some way to cover yours, too.
2. If you don't have one already, you really need to bite the bullet and get a kitchen scale. They are cheap, widely available, and make your bread baking not only better but easier. I use a digital one made by EatSmart. It was on sale and works great. Once you have one, you will curse every baking recipe that does not include weights. *P.S. I know there are recipes on this here website that do not include weights and I shall do my best to remedy that.
3. Go ahead and get yourself a bench scraper if you don't have one already. I have one from Oxo Good Grips, it works great, and is useful for lots of things apart from bread baking. This isn't totally essential, but I would recommend it.
4. I use two different rattan bannetons/proofing baskets, both made by Doyolla: an 8.5″ round one, and a 10″ oval shaped one. I prefer the oval-shaped one, but I like having two different ones, as the bread turns out differently. These are lined with linen which avoids problems with sticking. It is widely recommended to rub copious amounts of rice flour into the linen liners, and I have found this to be wonderfully effective at avoiding any sticking whatsoever. You don't have to get proofing baskets. You can use a lined colander or just a bowl. I was very excited and started with proofing baskets, but they aren't a necessity. You need some way to cover whatever you use to proof your loaves; plain plastic wrap works (though it can stick), but I really like these things that are like food-safe shower caps made by Covermate.
5. The trick of this whole artisan sourdough business is the baking vessel. Because I like to bake two loaves at once, I have two different vessels. I use a 2 3/4 qt (2.6L) Le Creuset for my oval-shaped loaf, and a Lodge cast iron 3.2 quart combo cooker for my round loaf. You need at least one heavy-duty cast iron vessel that can still fit your loaves after they have risen, and it needs to have an oven-safe lid. Watch it with the Le Creuset lid handles – the black ones are only oven safe up to 375°F (I learned that the hard way, though luckily no one got hurt)! You can get a stainless steel replacement for any Le Creuset pot.
6. You need coarse-ground corn meal to sprinkle on your loaves so they don't stick to the baking vessels.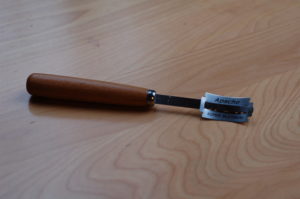 7. You need some tool to score your loaves – a small, sharp serrated knife works, or you can get fancy and get a bread lame (which is just a razor blade attached to a handle). I have one from Aeaker that works great and came with five replacement blades.
That's it! Now get baking!
---
---