No waste Instant Pot vegetable scrap stock, ginger garlic mushroom style
I couldn't possibly list all of the great things about living in Seattle, but one of the best has to be municipal compost. I know, I know, stop with the glamour and the titillation. I grew up with a compost heap in the backyard, and after moving away, I never got used to throwing uneaten food and scraps in the *trash*. I mean, of course, ideally, you don't waste any food and you don't ever do the big vegetable drawer clean out and wonder what on earth that particular green leafy vegetable that is now sludge once was. But I've got two little kids, and despite my best efforts (actually, probably because of my best efforts) serving them a balanced, nutritious diet, we have a fair bit of food waste. So bless Seattle and its green bins to ease the mama guilt. You can even toss in fish bones and meat scraps. Glory!
I came across another marvelous way to reduce your food waste with vegetable scrap stock. I first encountered the idea in the book Vegan Pressure Cooking by J.L. Fields. The idea is to collect the vegetable scraps you accumulate from your day-to-day food prep, freeze them, and then once you have enough, toss them in your pressure cooker with water and a few herbs and spices, and there you go. Vegetable stock. It's ingenious, cheap, and changes with the seasons.
I have made many different versions using all kinds of scraps. Given what I am usually cooking, this almost always includes onion skins and ends, crushed garlic cloves, carrot greens and peels, and lettuce trimmings. Sometimes it includes celery ends and peels, tomato stems, or some other vegetable I've been prepping. I don't add in starchy things (like potatoes, sweet potatoes, or parsnips) or cabbagey things (including broccoli, kale, cauliflower, or – yep – cabbage) because it can make the stock bitter. This is a source of sadness for me, because I really need a use for kale stems. When I'm prepping vegetables, I pull out a large two-liter container I keep in the freezer and add whatever scraps are appropriate as I go. When it's full, I make stock.
This stock is great using herbs like parsley, sage, rosemary, or thyme (sing it with me), but I often need a stock with a different flavor profile for things like ramen or other Asian noodle soups. I've come up with the following, loosely inspired from Lukas Volger's fantastic book Bowl.
Oh, and by the way. Instant Pot! Do you have one? You should get one. No, really. I know. Everyone tells you this. But you should really, really get one. Mine is named Potsy and she is an absolute joy. She's in daily use, mostly for speedy preparation of kitchen staples, and I don't know how I did anything in the kitchen without her.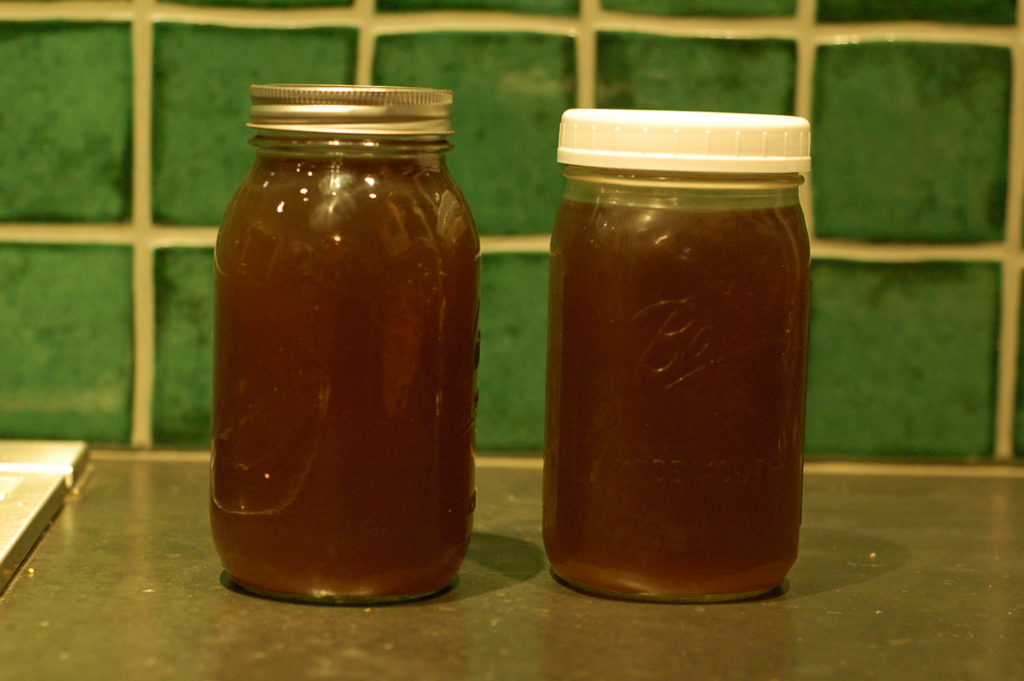 Vegetable scrap stock with ginger, garlic, and shitakes
Ingredients
2

liters

vegetable scraps

such as: carrot tops and peels, crushed garlic cloves, onion trimmings, celery peels, lettuce hearts; almost anything except starchy or cabbage-related vegetables

1

bay leaf

8

dried shitake mushrooms

3-4

pieces of dulse

A drizzle

toasted sesame oil

2

thumb-sized

pieces of ginger, peeled

10

cups

water
Instructions
Place all ingredients into the Instant Pot.

Seal on the lid. Set on manual for 30 minutes. Because the vegetable scraps are probably still frozen and there is quite a bit of water in the pot, it will take a while to come to pressure.

Let the pressure naturally release after the 30 minutes.

You can definitely make this on the stovetop if you don't have a pressure cooker. Bring to a boil, then simmer on low for an hour (or longer, for a stronger tasting stock). Then follow instructions as below.

Once the pot is cool enough to handle, carefully strain the stock through a fine mesh strainer. Strain again through cheesecloth.

Transfer to sealable containers and refrigerate if you're not using right away. Use within a few days or freeze.
What do you like to add to your vegetable stock?
---
---