Meal plan: week of October 1, 2018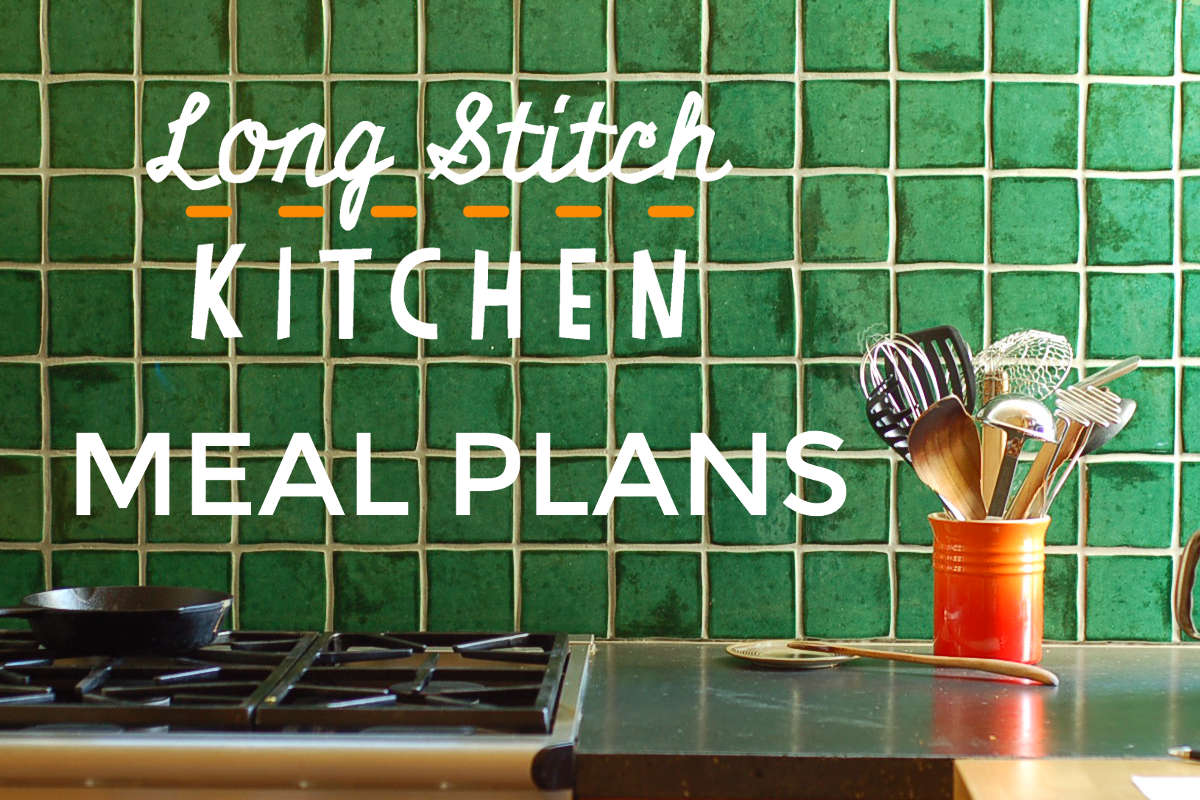 Holy moly did you see what just happened? I typed October into the title bar because somehow by the time I start cooking this week we will well and truly be in October. How on earth.
I tell you what, being a mostly vegetarian cook really complicates meal planning. It's never just meat and two veg, it's what kind of protein, how to prepare it, what sort of grain to serve it with and how, how to make a delicious sauce, and then how many vegetables can I cram in or on the side. And of course, in my family, all of these components have to be possibly separate (for picky kids who want zero cross-contamination) and relatively flavorful (for both me and my partner, who like food to be delicious and interesting, not just calories). It feels exhausting some weeks – clearly not enough to sway me from my primarily vegetarian ways – but the last couple weeks it's been a little easier because of our new Fish Wednesdays.
On Wednesdays, we have after school climbing class, and the class is located next to a very easy to access and very reliably delicious and fresh fish shop in one of the areas where all sorts and sizes of fishing boats moor. So we have been stopping after class and picking up some very fresh fish. The first week, I popped in and noticed a baseball game was on the television. Baseball is the only sport that I have any real interest in, and when I looked closer, I noticed it was not just any baseball game, but a Red Sox/Yankee baseball game. How exciting! I of course immediately enquired as to who was the Red Sox fan (knowing clearly that it could not have possibly been a Yankee fan) and was rewarded with the most charming Red Sox fan of a fishmonger who sold me beautiful marbled salmon one week and perfect, local, flaky rockfish filets the next (after being reminded of our Red Sox connection). I now hope dearly that this fellow Red Sox fan will steer me through the waters of semi-regular fish preparation, and one of my lifetime dreams will be realized: a proper relationship with a real-life fishmonger, ensuring only the freshest, most appropriate, and most responsibly caught fish on our plates. It's all very exciting.
Anyway, the other thing about fish is my goodness but it is quick to prepare. We walked in the door at 5:10 last Wednesday and sat down to a lovely meal of truly tasty fish tacos at 6:00. I even had time to flash fry a bunch of shishito peppers. I mean, look at this spread!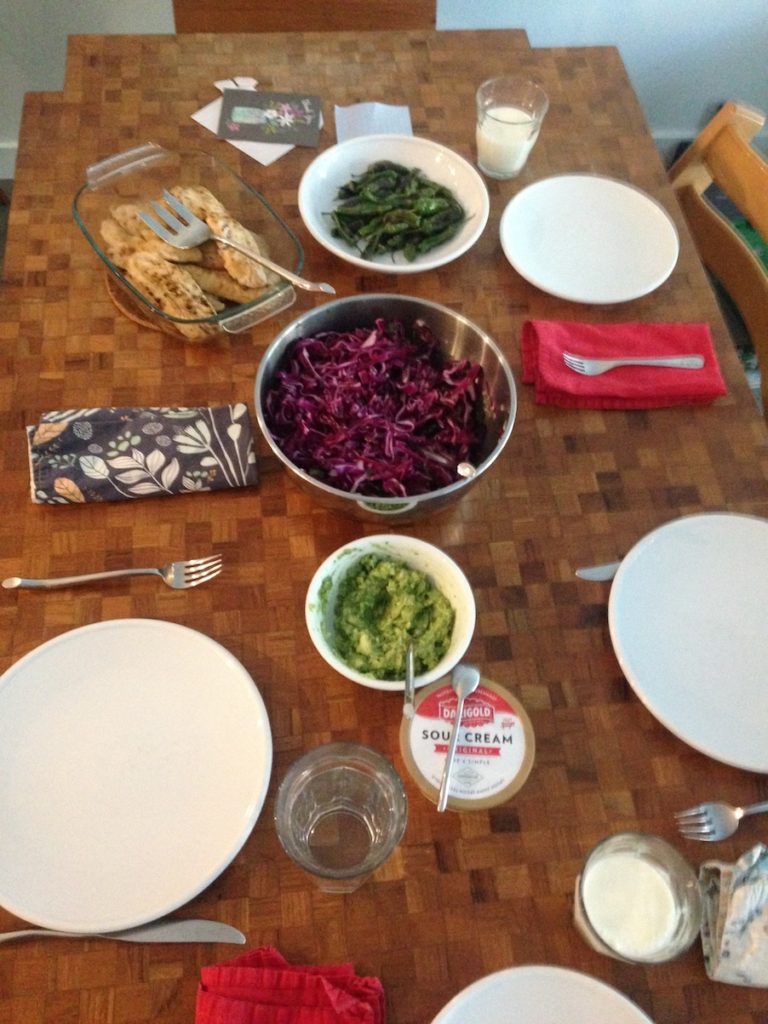 Aren't those napkins so pretty? I made those! One of these days, I'll put a tutorial up and you can make them too. They were my first sewing project and they have cheered our table at every meal since.
In other news, thanks to an adored and magnificent sister-in-law, this showed up in my mailbox this week.
I KNOW. It's very exciting, and I've only just begun. My husband made the fig clafoutis from the puddings section for dessert on Saturday night and it was a real big hit with the whole family. It's the British version, because I don't believe the American one is out just yet, so it requires some translations and conversions, but it's all very achievable and delectable looking.
Anyway, another week! We need to eat dinner.
Monday. I got back out the Food52 cookbook A New Way to Dinner by Amanda Hesser and Merrill Stubbs, which, if you're looking for much more detailed meal plans and eat a lot of meat, are great. I have to pick and choose, but everything I've made has been really good. So tonight I'll make the cream of roasted tomato soup with grilled cheese sandwiches (I mean: just look at this bread that is waiting to be made into sandwiches), and a light green salad on the side.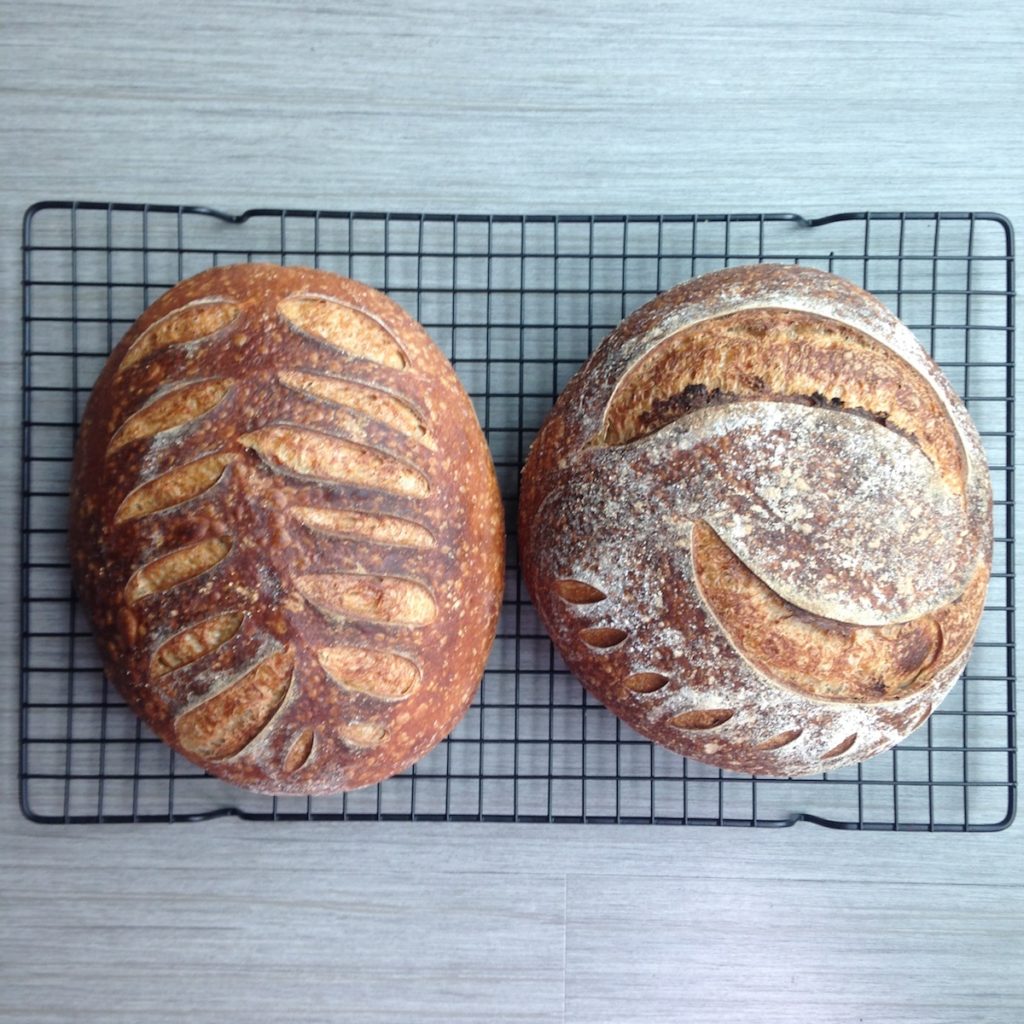 Tuesday. From the same book, I'll make the stuck-pot rice (a favorite from last winter), with fried eggs and creamed kale. It sounds very warming and cuddly, does it not? Perfect for what is supposed to be a rainy fall Tuesday.
Wednesday. Fish day! I'll make the fish salpicon from the same book, served with corn tortillas, some sort of veg (maybe some chargrilled zucchini?), cilantro, and lime.
Thursday. There's a school event tonight, so it'll be ye olde standby of black bean burritos, though there will be leftover fish from Wednesday so we'll add that to the mix as well. Also sour cream and guacamole because what's a burrito without sour cream and guac?
Friday. My first foray into Ottolenghi's new book! Friday is usually pasta night over here, so we'll try the gigli with chick peas and za'atar, having made the chick peas in Potsy earlier in the day.
So, what's on the menu at yours this week?
---
---