Meal plan: week of July 30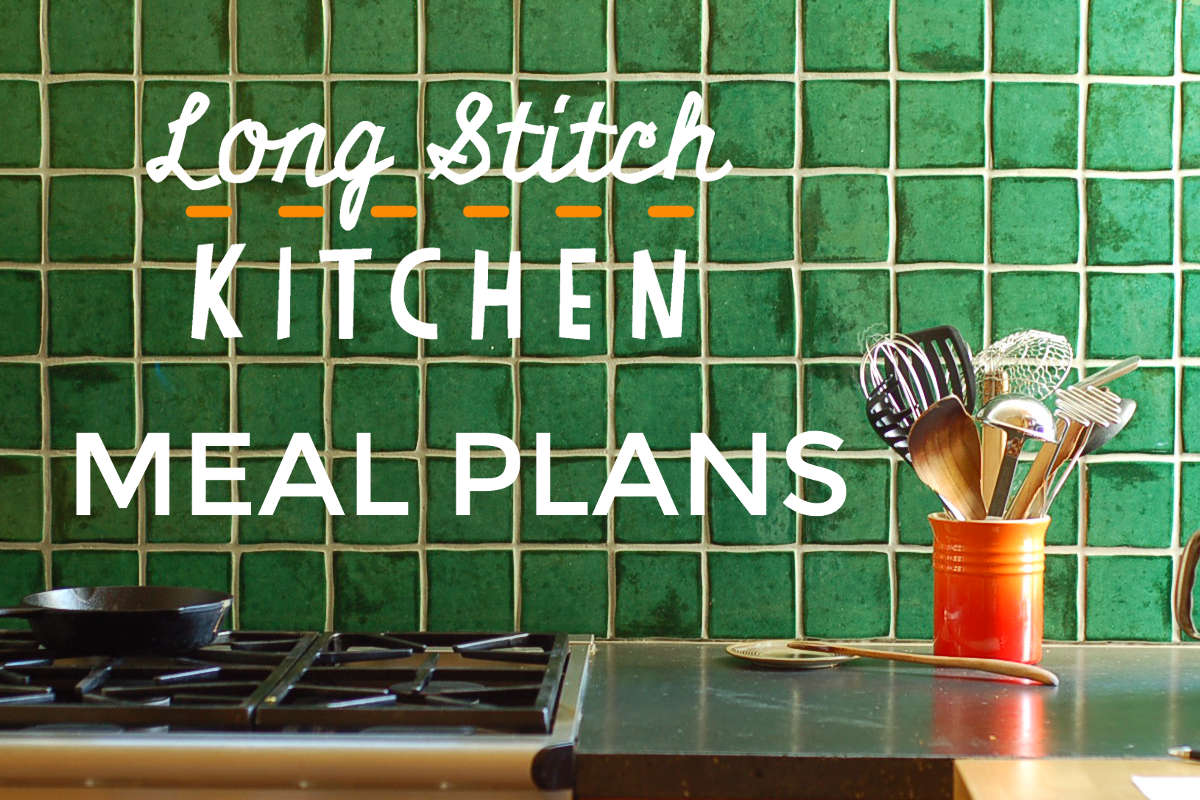 Well! Please accept my apologies for the unannounced hiatus. Life sometimes has a way of getting in the way, does it not? Turns out going on holiday for two weeks – and not being asked to cook a single meal while away – and then moving (temporarily) out of one's beloved home to prepare for a renovation, all the while juggling the very enormous demands of two children on summer break gets in the way of one's fledgling cooking blog.
But, here we are, settling into our new, temporary, life as urban apartment dwellers. I put it off as long as possible, but turns out we still need to eat dinner every night. Navigating a new kitchen is always a bit of a challenge, and I've been engaging in a great deal of opening-closing-opening again of cabinets, trying to find that one metal bowl or that one glass casserole dish. The highlight of the new kitchen is this pretty open shelving that allows me easy access to all my bulk dry goods, and looks so pleasing.
Ok, full admission that this does not in fact look super appealing. The light is weird in here, I am still working it out. Seattle has also decided to be blazes-hot this week so we have been keeping everything closed up as soon as the sun rises.
I'm trying a new experiment this month, after being inspired by this woman described in an article on the Washington Post, and by that same woman's Instagram account, @tiny.trash.can. She has reduced her household's weekly garbage to a single small mason jar. It's a noble goal, and she has lots of excellent suggestions on how to get there, the light-bulb idea for me being bringing your own containers to the bulk section rather than the nonsense I've been doing, namely using the plastic bags they provide to attempt to guess the exact amount I need to then transfer perfectly into the containers I keep at home. So silly, and such an unnecessary use of plastic. She suggests using a wine carrier for your glass jars. I am going to try this out and will report back after figuring out how to tare the items, etc. I already do so much bulk shopping, why not simplify this one step and reduce waste at the same time? We are about to be smothered in a tidal wave of plastic, so there's that motivation as well. The Washington Post's coverage of the pending/already underway plastic crisis has been excellent, by the way, and I highly recommend supporting your favorite journalists.
Anyway, Seattle is hot. Which means I am disinclined to turn on the oven, and I'm also very summer-lazy about cooking, and I feel totally out of practice on meal planning and I will cease whining now. Luckily we are heading out of town again for a short visit with family later this week, so this return-to-meal-planning is blessedly abbreviated.
Monday. Today is supposed to be the hottest day of the week, so I'm going super simple with a variation on this sardine and cole slaw po'boy recipe from the New York Times. I already have that Smitten Kitchen pickled cabbage salad on hand (as usual) so will probably just mix some of that up with the yogurt.
Tuesday. We'll have Smitten Kitchen's baked chickpeas with pita chips and yogurt, along with all the fixings. This is one of those things that sounds like the exact perfect thing to eat on a hot summer's day, except it is not exactly the exact perfect thing to prepare. I'll do the chickpeas in my Instant Pot, and then will have to hope the oven doesn't heat up the entire apartment. I think it will be worth it, I've made this before and it is delicious.
Wednesday. Pasta seems manageable in this weather, so I'll make the Mediterranean cavatappi from my current favorite dinner cookbook, Colu Henry's Back Pocket Pasta.
Thursday. Unless I am otherwise inspired, I think it will be our family's standby of black bean burritos, with cabbage slaw, sour cream, guacamole, and shredded cheese. I'm 100% sick to death of putting this on our meal plan, but everyone (even me!) likes eating it. I've been making an additional tomato and cilantro relish to go with it, which adds a spiky fresh punch.
Friday. I won't have to cook tonight! But we will probably be eating airport food for dinner. So it's kind of a wash.
How do you get dinner on the table when the sun makes you want to sleep all day? Any go-to summer dinners to share?
---
---