Our favorite pink (sometimes green) smoothies
When I got my Vitamix a few years ago, I was all about the smoothie. Smoothies for breakfast. Smoothies for after running. Smoothies for a quick lunch. Smoothies to impart key nutrition to kiddos. Smoothies to sustain me. I was in fact kind of an epic proselytizer about the Vitamix, and my major argument was SMOOTHIES. [Sidebar. To be clear, I am kind of an epic proselytizer about many things (Instant Pot, sourdough, I mean look at this website. Plus barefoot shoes. And most other gadgets, cookbooks, and apps that have even minisculely improved my life. Stick around, you will see.)]
In this case, I think my proselytization may have been a bit premature. I love my Vitamix, and will try to convince you to buy one if you ask about it, and I still use it for smoothies fairly regularly, but my love affair with the smoothie has largely stalled. Turns out, smoothies do not fill me up. No matter what heartiness I throw in them – nuts, seeds, yogurt, silken tofu, I even tried coconut oil which I don't even like –  an hour after drinking a smoothie, I am hungry. I think there's some science behind this – without the chewing, our brains don't register the food in the same way or something – so it's not just my imagination. Or it is, but sciencey imagination. Anyway, I soon discovered that my smoothie habit wasn't doing me any favors. So I pulled back, tried to figure out another decent regular breakfast, and now make the occasional morning smoothie for the kids, and have a small taste myself, or make myself a fruit-and-veg only green smoothie in the late afternoon to get through the afternoon hump.
I see smoothie recipes online all the time, and in books, but I pretty much never waver from this standard breakfast mix. My kids love it, I love it. Even my husband, who until about a month ago was deeply smoothie-suspicious, seems to love it. It's fresh and sweet, packed with tastiness, and not too heavy. We don't serve enormous quantities, a small Mason jar or our small Duralex glasses are just the right amount.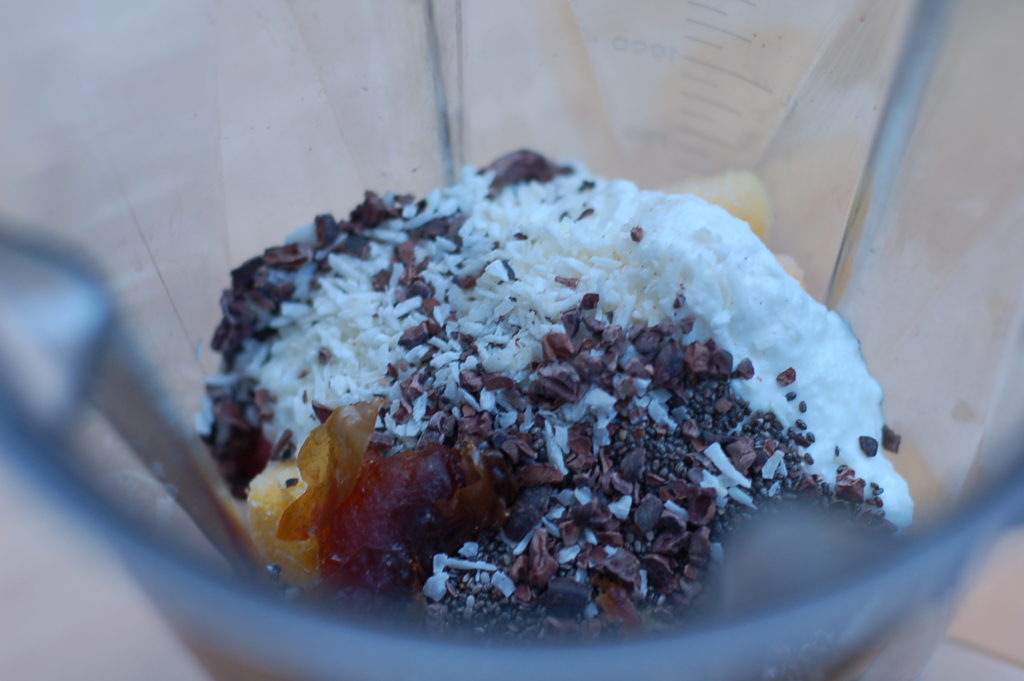 Our favorite pink (or green!) smoothies
Ingredients
1/2

frozen banana

1

generous handful

frozen strawberries

1

generous handful

frozen mango chunks

1

teaspoon

chia seeds

(these are all -ish: I usually just grab whatever smallish spoon is close at hand)

1

teaspoon

unsweetened, shredded coconut

1

teaspoon

cacao nibs

1

pitted medjool date

(optional - gives an extra sweetness boost)

1/2

cup

non-fat plain Greek yogurt

(any plain yogurt works, we like it tangy)
If you want a green smoothie, also add:
3-4

leaves

lacinato kale

I usually remove the central rib, but you can leave it as long as you let the blender run a little bit longer to break it up entirely
Instructions
Start with the frozen fruit, and place all the ingredients into your Vitamix or other high-speed blender.

Add enough water to cover the ingredients by an inch or two. You can use milk or a non-dairy milk if you want, but we find it makes it a bit too rich.

Allow to sit for a minute or two so the frozen fruit slightly softens, then blend on high speed to your desired consistency. Pour and serve.
Incidentally, this mix also makes delicious popsicles. I have molds for big popsicles and tiny little pops, which my kids now eat 3 or 4 at a time. Just pour your leftover smoothie mix into molds, freeze, and enjoy on a sunny front porch. Or on a sunny kitchen floor, as the case may be.
Are you a smoothie fan? Do you have a standard recipe, or are you smoothie-adventurous?
---
---